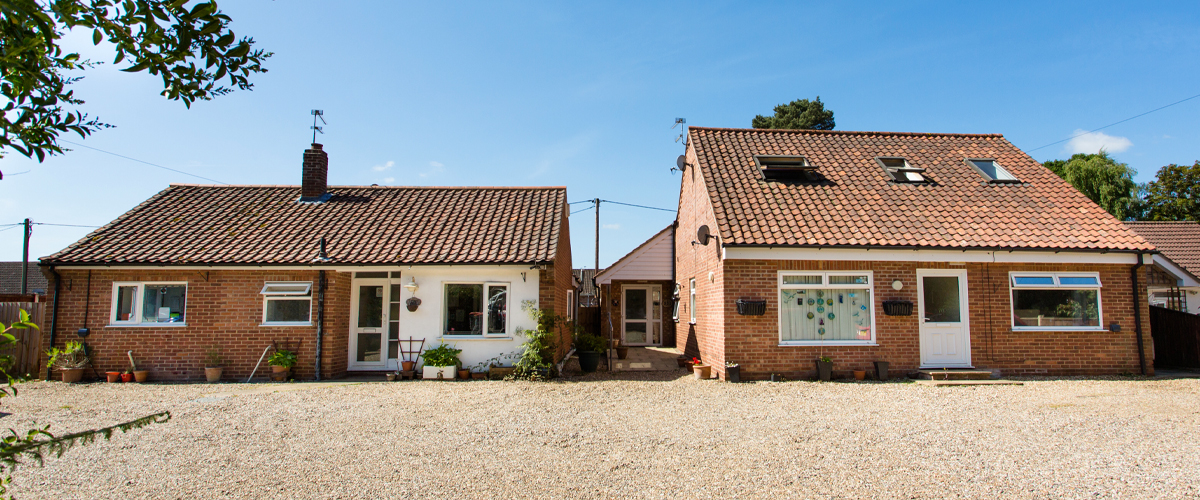 Overview
329 Fakenham Road was opened in 2006 and 331 Fakenham Road in 2009 and they are registered with the Care Quality Commission to provide residential care for 3 adults and 5 adults respectively, with a learning disability and challenging behaviour. The properties are next door to each other and are set in a quiet residential area.
Registered with the CQC in 2009
4 double bedrooms downstairs, all with an ensuite toilet and hand wash basin.
1 apartment with a double bedroom, lounge and bathroom with both bath and shower facilities.
The house has a communal lounge/dining area, kitchen and separate utility room
1 separate bathroom with bath and shower facilities
Each bedroom is large in size and decorated and furnished to a high standard. With support from staff, service users are encouraged to personalise their room to their own individual tastes.
Each of the bedrooms can be locked and service users are offered a key to their room so they may feel empowered and safe in their surroundings.
Secluded garden to the rear and ample parking at the front shared by both properties.
Location
The properties are in a quiet residential area of Taverham.
All local amenities are just a short distance from the home
There is an excellent bus service into the Centre of Norwich.
CQC comments
The staff were caring, and we observed positive interactions between people and staff. Staff have a good knowledge about the people they cared for and understood how to meet their needs. They supported them to maintain as much independence as possible and to communicate effectively, as well as to maintain their personal relationships.

The people and the relatives we spoke with said that staff were competent in supporting the people at the home. We spoke with one member of staff who had been working in the home for five months. They told us that they had received a comprehensive induction and felt confident when they started working with people.

Staff supported people to make choices wherever possible, for example where they wanted to go and what they wanted to do. People were involved in the planning of the support they needed. They had a meeting with a staff member each week when they discussed their care, and how they felt living in the home.
Contact Details
Charlie Shipstone – Service Manager
329 & 331 Fakenham Road
Taverham
Norwich
NR8 6LG
Tel: 01603 868880
Email: headoffice@newboundariesgroup.com
Referrals
Any referral requirements should be directed to head office initially, by emailing headoffice@newboundariesgroup.com or phoning 01692 407549.
How to find us
Use the Route Finder at the top of the map to see suggested directions to visit 331 Fakenham Road.
Title

Address

Description

Directions

331 Fakenham Rd, Taverham, Norwich NR8 6LG, UK

331 Fakenham Road
Taverham
Norwich
NR8 6LG

Directions
Head Office
Boundary House
Haveringland Road,
Felthorpe,
Norwich,
NR10 4BZ
Tel: 01692 407549